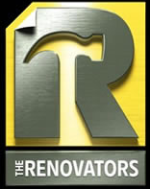 In 2011 the Ten Network aired the highly publicised program, The Renovators over three months. Twenty-five renovators faced off with six houses from hell. Their task - to transform these nightmares into real estate gold. The renovations take place in houses across the suburbs of Sydney as the contestants renovation imagination became renovated reality.
In various challenges the renovators were put to the test, battling to keep their place in the game, on the largest renovation stage ever seen- a 13,000 square metre warehouse.
The Warehouse, is the largest television set in Australia - where contestants fight for competition survival in a series of design, decorating and construction challenges to win valuable assets and advantages for their own renovations. In the end there was only one winner.
Shine Productions contacted Rotation in January 2011 to purchase a 5 metre revolving platform as part of the program. Their intention was to use the platform as part of the challenges in the Warehouse.
Rotation was proud to provide a Revolve5000, a 5 metre revolving platform to this production in March 2011 and installed it in the Warehouse ready to go prior to filming.
Shine Art Director, Angus McDonald said "Rotation's Revolve was provided on time and exactly as we wanted it. I would use this company again for revolves."